Rather watch than read?
Click the thumbnail to watch a video version of this post at our YouTube channel.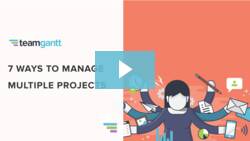 Imagine having a full queue of client projects for the rest of the year. More clients mean more steady income, work opportunities, and connections for the hard-working professional. Sounds and feels like a dream come true, right?
What most don't realize is the heavy responsibility that comes with juggling multiple clients at the same time. Unless you have the manpower and the resources within reach, staying organized while managing several clients at once can be a challenge with consequences.
Without the right tools and an effective system in place, you could risk losing your clients and tainting your business' reputation. Money, time, and emotional stress could be on the line too.
The good news is that despite the risks, it can be done. You can stay organized and be productive while keeping your clients happy. Here's what we recommend:
1. Set the right expectations.
Never promise the skies when you can only reach the trees.
Always set the right expectations with a new client with regards to deadlines and project timelines. You want to establish trust and loyalty with your client from day one, and the quickest way to destroy that is to fail to meet the very expectations you've set out for them.
2. Sort projects by client.
A quick and easy tip for better organization is to sort and create a timeline for each client project.. This gives you a full overview of your daily, weekly, and monthly workload. Tasks, milestones, files, and discussions can then be organized and segregated from other client projects.
3. Mark or tag project folders and files by client.
The last thing you want is to send that project brief to the wrong client. A good organizational system will save you from such a disaster.
One easy way is to attach and save project folders and files to the right client project. If you're organizing project folders outside of your project management tool, make sure to categorize them by client. Renaming folders, using different folder colors, or tagging folders are just some of the many options you have at your disposal.
4. Track time spent on each client project.
Time tracking is a great way to determine how much work is being done for each client project. Turnaround times and resourcing become more predictable, allowing you to bill your clients accurately.
That being said, you can save yourself from the headaches of billing and hourly estimations by choosing a project management tool that offers time tracking and hourly resourcing. If you're an advanced TeamGantt user, you can use our time tracking features to track time spent on client projects and bill your clients accurately.
5. Schedule client meetings, tasks, and milestones to your calendar.
A common cause for disaster is never keeping track of what's due to your clients. To prevent this from happening to your business, always schedule client meetings, tasks, and milestones to your calendar. This keeps everything in check that nothing important slips from the cracks.
Most PM tools have the option to sync your projects to your favorite online calendar. You can utilize this feature so you're always aware of what's due and upcoming.
6. Schedule the next day's agenda before going to bed.
One productivity tip that is often cited and suggested is preparing the next day's agenda beforehand. By putting all of your next day tasks in writing, you have direction in terms of what need's to be done.
You can reserve 15 to 30 minutes to planning out tomorrow's task list. If your productivity tool supports reminders, schedule it to notify you for each task that is due.
7. Say "no."
Would rejecting additional client work mean losing opportunities? Yes, but it also means allowing you and your team to focus your time, effort, and energies in producing the best work for your existing clients.
By saying "no" to work that doesn't fit your schedule or that doesn't align with your values as a company/professional, you reserve your precious time for work that truly matters to you.
Are you handling multiple clients at once?
If you're struggling with juggling multiple clients and projects, take this time to implement at least one of the seven tips covered. If you feel that you have a system that benefits you and your company, we'd love to hear about it in the comments below!
Planning Your Projects Can Be Easier
Thousands of people from over 60 countries use TeamGantt to plan, track, and manage their projects! Join them in making project planning an easier part of your life.
Learn More